We have talked with Carlos Zaragoza and Aurora Jiménez to know their work as production designer and visual development artists for the film VIVO.
Carlos Zaragoza is production designer on feature animation. His experience includes production design, art direction and set design for more than 20 years in live-action feature films, animation, musical theater, advertising, and television. He worked on animation movies produced by DreamWorks, Paramount, Universal and Sony Animation Studios like The Tale of Despereaux, Gnomeo & Juliet, Wonder Park, Madagascar 3, Mr. Peabody & Sherman and Puss in Boots 2. He did the art direction of the short film La Noria by Carlos Baena, and the production design of The Emoji Movie and, his last one, the musical VIVO. Before that, he was art director in live-action movies. He designed the settings of iconic movies such as Pan's Labyrinth, directed by Guillermo del Toro and Asterix at The Olympic Games. 
Aurora Jiménez is a visual development artist, character designer and production designer working in animation. She has been working in the animation & videogames industry for over 20 years. Originally from Spain her professional career took her from Madrid to London, Toronto, San Francisco & Los Angeles where she lives now. For the last 8 years she designed for studios like Sony pictures animation: Hotel Transylvania 2 & 3, The Smurfs. The Lost Village, The Emoji Movie and the animated musical VIVO. She is currently at DreamWorks feature animation working on early vis-dev for an unannounced project. At DreamWorks she also designed for The Bad Guys, to be released in April this Year. Back in 2005 she was the production designed for the animated feature El Guerrero Sin Nombre, for Tornasol films. She also has designed characters for Electronic Arts, in projects like: The Sims Medieval, The Sims Medieval. Pirates & Nobles & The Sims 4. 
Check out our interview!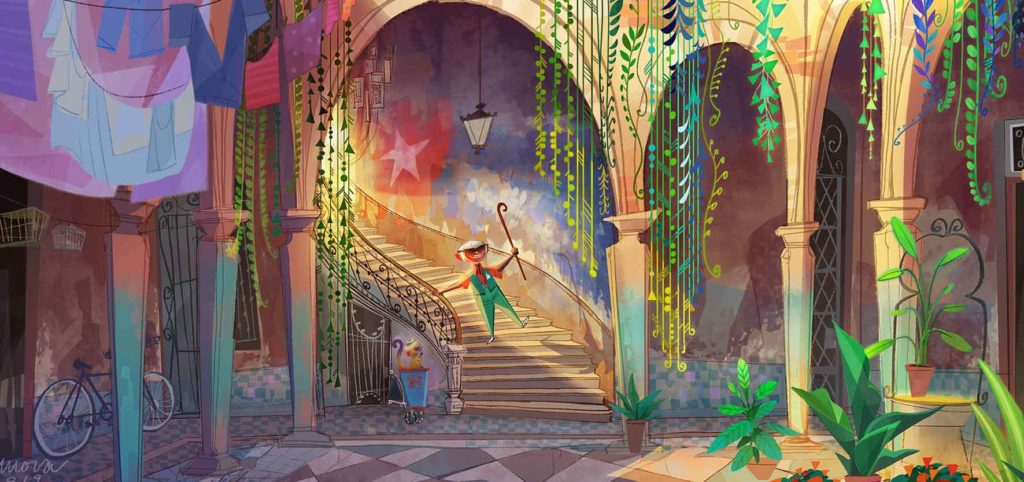 What was your role in VIVO?
Carlos: I was the production designer of the film, head of the art department. It's like an art director who supervise another – specialized -art directors (character design AD, lighting AD, etc.). I put together a team of artist who contribute to different aspects of the design of the movie. I am responsible for defining and creating a look for the movie that tells the story visually. My work starts with reading the script and having long conversations with the director to understand what they want to tell. It involves doing a lot of design and artwork myself but later it become more about inspiring and guiding other artists and supervising the design aspects of the movie in its different phases of production until its final version that we will see in the screen.
Aurora: I was visual development artist for the film VIVO in Carlos's art team. My job was to create the concepts and visuals for many of the film's settings, designing the worlds of the protagonists Andrés and Marta in Havana and Miami, and some of the musical sequences.
What are the qualities of someone who wants to work on such a visual part of a production?
Carlos: The essential qualities for me would be to be a very creative and curious person. On the other hand, learn the right tools to communicate your ideas, and persevere in that learning. This is something you will not stop doing for the rest of your life. Last but not least, animation is a very collaborative art form. Developing teamwork skills is essential. The final art is the film, not every drawing an artist does, and getting the right look depends on multiple factors and multiple teams working together in the same direction. Aurora: it is important to be passionate about telling stories. One way to nurture it is to develop your personal art and your own ideas.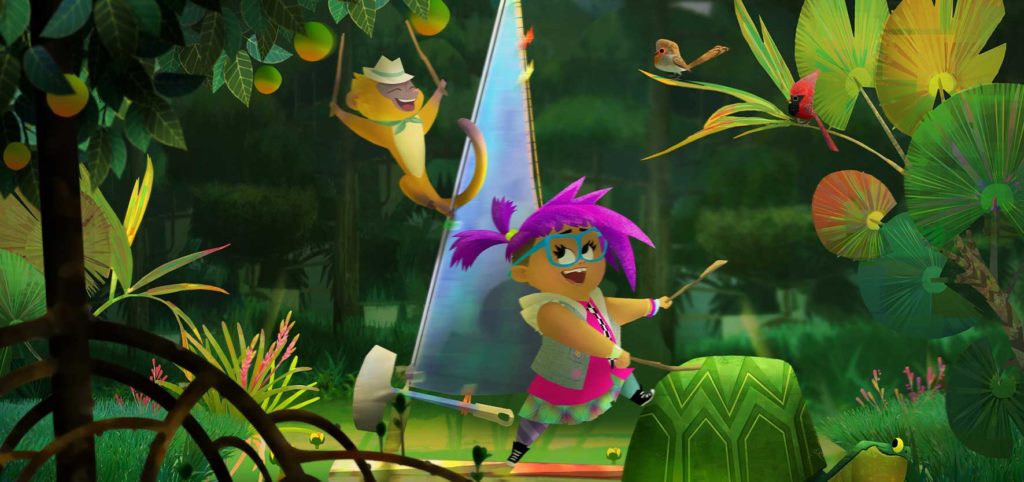 What advice would you give to young people who want to follow your steps?
Carlos: there are more opportunities than ever in video games or animation. That is fantastic. There are also more creators than ever doing art. That is why, as an artist, creator, programmer or modeler, it is important to have strength in one specific aspect that you like most, even if you are not a master of everything. Keep your passion, you can always improve on other skills you may need. It is also important not to get discouraged by the sheer number of talented people everywhere. Aurora: Yes, don't spend too much time in social media comparing yourself with other artists. It will only bring anxiety. Generate your ideas, study, work hard, associate with other colleagues. Do real things that you can show. This is very important.
What do you highlight from what you have seen of U-tad and our students? 
It is wonderful to see so many artists who studied at U-tad are among the best in productions all around the world. It is great to see how the school nurture and promotes Spanish talent.  The student portfolios we saw reflected a wide variety of defined interests and styles, but above all, a passion for design and visual development for animation.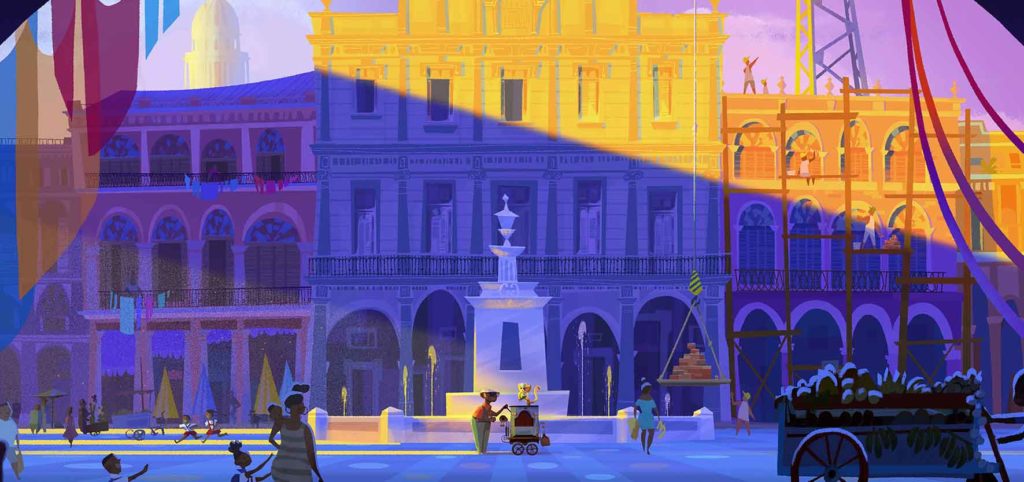 Pictures shared to U-tad by Carlos Zaragoza and Aurora Jiménez.